Sponsor A Musician (Crowdfunding)
June 14, 2022
Description
Help us make our dream a reality!
When I had the pleasure to know Poom Prommachart last November, I immediately recognize him as one of the most fearless artist I have ever met. His extraordinary skills on the piano is well known and undeniable. But what I admire most from him is his persistence to his craft and his passion for music. We are blessed to have him residing in Malaysia, I am incredibly lucky to get to collaborate with him this November, but most importantly, I am proud to have him as a friend!
We are bringing two incredible work for the audience in Malaysia, Beethoven's Choral Fantasy and Prokofiev's Piano Concerto No.3. And we want to do so while still able to maintain a friendly admission price for the public, and especially one that would encourage students to attend. Hence, we are seeking those who are able to support us by contributing to the fund to make this concert happen.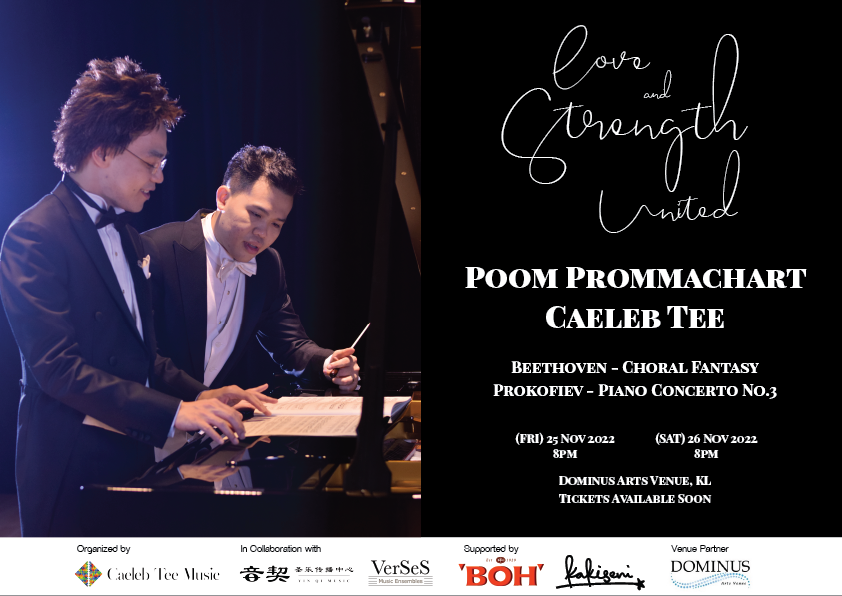 Where will the contribution go towards?
Your contribution will go towards the hiring of 36 professional orchestra players, who would be joining us to perform the program. Our goal is to crowdfund a total of RM36,000 by 31st October 2022.
Sponsor's Benefit:
All who contributed RM200 or higher, will have his/her name or dedication credited on the e-program and the stage screen during both concert nights. Also be the first to receive an unlisted link to the concert video recording (approximately a month after concert).
All who contributed RM1000 or higher, will also receive a small memorabilia and a personal thank-you-note signed by the artists.
All who contributed RM2000 or higher, will also receive a 2-person invitation to an after-show dinner on 26th November, together with the performing musicians, pianist Poom Prommachart and conductor Caeleb Tee.
Note:
Please be sure to enter a valid email address during checkout. We will be reaching out to you for any updates and invitations through your email. If you wish to be an anonymous donor, please let us know in the "purchase note".
Thank you for all who have contributed!
[Your name or dedication will appear here]