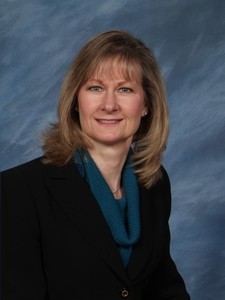 Peggy Bettcher has been the Director of Music Ministry at Rivermont Evangelical Presbyterian Church, Lynchburg, VA, since 2001. She Received a Bachelor of Music Degree, Summa Cum Laude, in Organ Performance and a Master of Music Degree in Music Theory, both from Northern Illinois University, DeKalb. While at NIU she was a pupil of Robert Reeves. Additional Instructors include Wolfgang Rübsam of Northwestern University in Evanston, IL, Marilyn Mason of The University of Michigan in Ann Arbor, and Robert Lodine of the American Conservatory of Music in Chicago. Other church music appointments include Westminster Presbyterian Church in Aurora, IL, and First United Methodist Church in DeKalb, IL. Since 2009 she has served as an adjunct faculty member at Liberty University, Lynchburg, where she taught organ and directed the Center for Worship Handbell Ensemble. Peggy has published numerous arrangements of music through Hope Publishing Company, which include books of handbell arrangements, individual handbell titles, and a collection of arrangements for organ.
While attending Liberty University in Lynchburg, I have had the privilege of working with Mrs. Bettcher.  She directs the Rivermont EPC Sanctuary Choir, where I sing tenor. She has also been my organ teacher since 2014. She is currently giving me the opportunity to have my Lenten Meditation premiered at Rivermont and has guided me in my process of composing the work. She has inspired me greatly. I had an opportunity to have an informal interview with her. Following is my conversation with Mrs. Bettcher.
What is/are your favorite passage(s) of Scripture?
Psalm 73:23-24 Nevertheless, I am continually with you; you hold my right hand. You guide me with your counsel, and afterward you will receive me to glory.
Jeremiah 29:11-13 For I know the plans I have for you, declares the Lord, plans for welfare and not for evil, to give you a future and a hope. Then you will call upon me and come and pray to me, and I will hear you. You will seek me and find me, when you seek me with all your heart.
How would you define "music"? What role does it play in your life?
A standard dictionary definition of music is:  "Vocal or instrumental sounds (or both) combined in such a way as to produce beauty of form, harmony, and expression of emotion."  Through this creation of beauty – the principles of acoustics (overtones, etc.) – pitches, their loudness and duration, rests, and timbres can be combined in an infinite number of possibilities. Can one ever doubt the existence of God when we look at this amazing and intricate gift?  As a musician, I am constantly involved in creating music, and I receive much joy in helping others benefit from listening to the music I create.
Who is your favorite organist?
Wolfgang Rübsam, from Germany.  I had the privilege of studying organ with him after I received my master's degree.   This was during the time he taught at Northwestern University and was the organist at the Chicago Temple (University of Chicago).  He was an excellent teacher, inspired me immensely, and transformed the way I played baroque music.  Mr. Rübsam has recorded the complete organ works of Bach on the Deutsche Grammophon label. I was thrilled that he took me on as a student, and I learned a great deal from him.
Who is your favorite composer?
César Franck, an organist who composed music during the 19th century French romantic period.  His works are highly expressive and dramatic. In order to play his music (or any music) with good expression, it is helpful to draw on feelings from your past experiences, even those from difficult times, and then weave these emotions into the music.  I enjoy playing baroque music – it is rhythmic and it dances. But it is emotional in a different way than music of the French romantic period.
What is your favorite piece of music?
I don't have a "favorite piece of music." My favorite piece is whatever I happen to be working on at any given time, whether it be an organ selection, a choral anthem with the church choir, or a handbell arrangement. My taste in music is very eclectic.
Is there a specific aspect of a piece that makes you more likely to enjoy it?
I enjoy pieces that are well written, have emotional aspects, and are playable and idiomatic to the instrument for which they are composed. I enjoy a well-constructed hymn arrangement, for instance "Great is Thy Faithfulness," which is included on my recent CD and that I presented this past summer in a recital.  A Bach Prelude and Fugue can be fun to prepare.  I also enjoy wonderfully-written a cappella choral works by composers such as Lauridsen and choral hymn arrangements by Dan Forrest.
Is this a profession you wanted when you were young?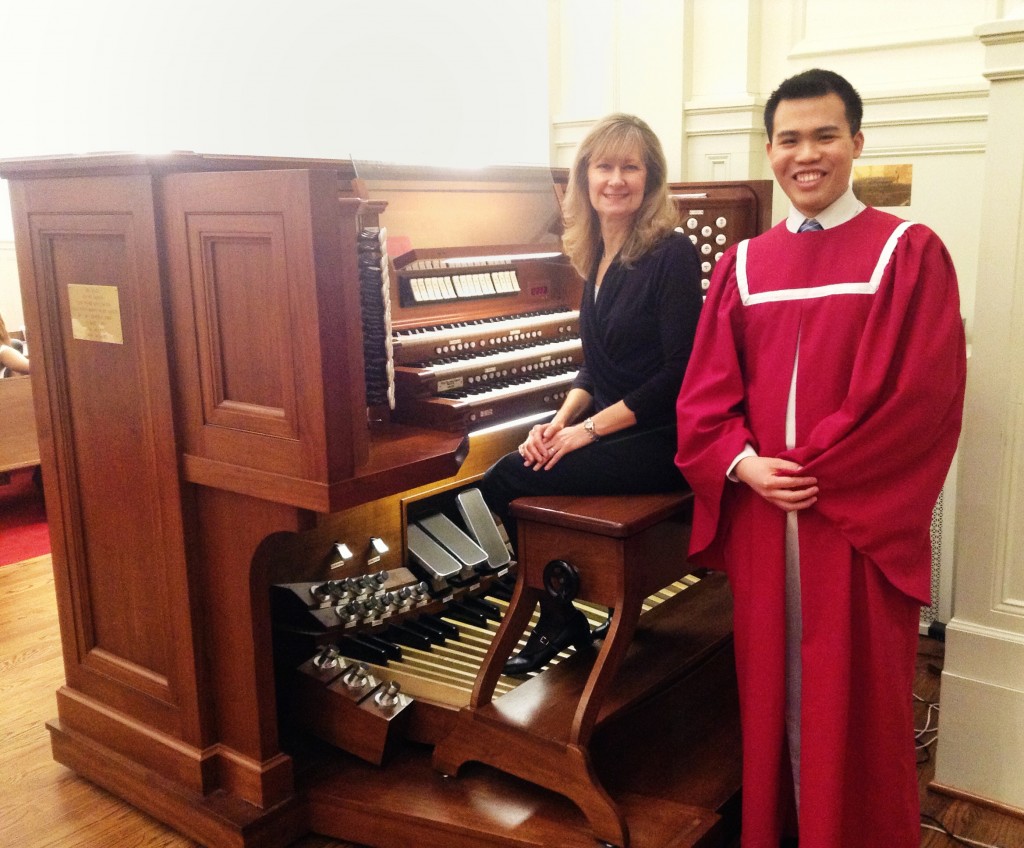 Yes. My mom taught me to play the piano when I was 5 or 6 years old. When I was in the 8th grade, my pastor heard me playing the piano and wanted me to take organ lessons because our church needed another part-time organist. It was at this time that I stopped taking piano lessons and switched to the organ. After 6 months of organ lessons, I started playing services at my church one Sunday a month. Then, when I was a senior in high school, I directed our church choir. My organ teacher encouraged me to pursue a major in music. I took his advice and have always been happy that I chose this profession.
What are sacrifices that you have made due to your achievements?
Because musicians have to spend so much time practicing their instrument, we sacrifice social time. When I was in college, sometimes I would practice 5 hours a day while taking a full course load.  During my freshman year, my roommate thought that I was there to hang around with her, but found out soon that this was not the case.  This did not make her very happy. To develop your skills to a high level one must work hard and spend a great deal of time alone at your art. My personality is such that I don't have to be around people constantly, so I'm okay with that.
Do you still do as much practice now?
No.  Now I'm able to learn music much more quickly than in the past.  Pieces that used to take me about 20 hours to learn, I can now learn in about 5.  Growth and development as a musician is a life process. You build on your foundational skills in college, but then you experience most of your growth through your subsequent job experiences.
Where do you see yourself in 10 years?
Still growing. I hope to keep my organ skills sharp by playing recitals from time to time.  In the area of choral music I plan to continue my growth as a conductor by attending summer workshops.  The past two summers I participated in the Conducting Institute at Westminster Choir College in Princeton.  I'm hoping to attend a conference in Atlanta this coming summer.  And I'll wait on God to see what He has in store for me. Sometimes He surprises us and does really neat things that we don't see coming.
What is your most memorable moment as a musician?
Hmm, I've got good and bad memorable moments. [Laughs] First I'll share one of the bad ones.  When I was a freshman in college, I was supposed to play a short Bach piece from memory in front of all of the keyboard majors. I played about 4 or 5 measures of the piece, and then I blanked. How embarrassing!  Luckily I had my score with me. So I stopped, put my music on the rack and started over. I decided from that point on that I would never again play from memory in public.  Now, for a good memory. This past summer I played a 25-minute recital at Court Street United Methodist Church and presented several pieces from my recent CD.  Since the pieces were well under my fingers, I was quite relaxed and probably gave one of my best presentations ever!  It was so much fun. I hope to have an experience like this again.
How would you like people to remember you as?
I'd like to be remembered as a servant, and as someone who loves the Lord.  In my work at the church I enjoy helping others discover their talent, grow in their talent, and gain confidence in their musical abilities by giving them opportunities.  I enjoy involving as many individuals as possible in music ministry.
If you could change one thing about your life, what would it be?
There's really nothing that I would change. I feel that God has blessed me greatly, both in my personal and public life (my profession). But it would be nice to "stop getting older."  [Laughs]
Is there any advice that you would give to young music students [like me]?
Be open to where God is leading you – seek His Will for your life, and maintain a close relationship with Him. Sometimes He surprises you. Don't close doors, let Him close or open the doors. Go with your strengths, and don't be afraid to learn new things. Be open minded. I left college having earned degrees in organ performance and music theory. I didn't know at that time how I would use my music theory degree. But 10 years ago I began writing arrangements for handbell choirs. And for the past eight years I have been directing the church Sanctuary Choir. I didn't see those things coming. Just trust God and seek His guidance, and if there is an opportunity presented to you, go for it.
(January 9, 2015)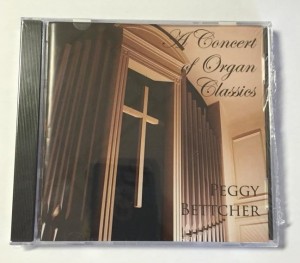 Mrs. Bettcher has recently recorded an organ CD. This includes works by Bach, Franck, Mozart, Dupre, Barber's "Adagio for Strings," Widor's "Toccata from Symphony No. 5," and several inspirational hymn arrangements. Copies sell for $10.00 and proceeds benefit the Music Fund of Rivermont Evangelical Presbyterian Church. If you wish to purchase a copy, please email pbettcher@rivermont.org.